My Blog
Posts for tag: veneers
By Ford Dental Group
August 11, 2021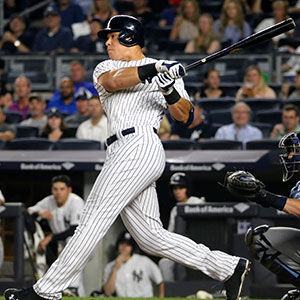 Between the final game of the World Series in late October and spring training in February, major league baseball players work on their skills preparing for the new season. Reporters on a Zoom call to the New York Yankees' training camp wanted to know what star outfielder Aaron Judge had been doing along those lines. But when he smiled, their interest turned elsewhere: What had Aaron Judge done to his teeth?
Already with 120 homers after only five seasons, Judge is a top player with the Yankees. His smile, however, has been less than spectacular. Besides a noticeable gap between his top front teeth (which were also more prominent than the rest of his teeth), Judge also had a chipped tooth injury on a batting helmet in 2017 during a home plate celebration for a fellow player's walk-off home run.
But now Judge's teeth look even, with no chip and no gap. So, what did the Yankee slugger have done?
He hasn't quite said, but it looks as though he received a "smile makeover" with porcelain veneers, one of the best ways to turn dental "ugly ducklings" into "beautiful swans." And what's even better is that veneers aren't limited to superstar athletes or performers—if you have teeth with a few moderate dental flaws, veneers could also change your smile.
As the name implies, veneers are thin shells of porcelain bonded to the front of teeth to mask chips, cracks, discolorations or slight gaps between teeth. They may even help even out disproportionately sized teeth. Veneers are custom-made by dental technicians based on a patient's particular tooth dimensions and color.
Like other cosmetic techniques, veneers are a blend of technology and artistry. They're made of a durable form of dental porcelain that can withstand biting forces (within reason, though—you'd want to avoid biting down on ice or a hard piece of food with veneered teeth). They're also carefully colored so that they blend seamlessly with your other teeth. With the right artistic touch, we can make them look as natural as possible.
Although porcelain veneers can accommodate a wide range of dental defects, they may not be suitable for more severe flaws. After examining your teeth, we'll let you know if you're a good candidate for veneers or if you should consider another restoration. Chances are, though, veneers could be your way to achieve what Aaron Judge did—a home run smile.
If you would like more information about porcelain veneers, please contact us or schedule a consultation. To learn more, read the Dear Doctor magazine article "Porcelain Veneers: Strength & Beauty As Never Before."
By Ford Dental Group
January 09, 2020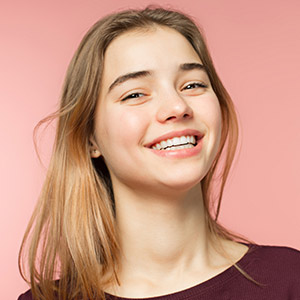 Just like adults, teenagers experience chipped, stained or disfigured teeth. And during a life stage where issues with appearance can be acutely painful, these defects call out for a solution.
And, there is one: porcelain veneers. These thin wafers of custom-made porcelain are bonded to the front of teeth to cover dental flaws. They're one of the least invasive—and most affordable—methods for smile enhancement.
There is one caveat, though: The affected teeth will most likely need alteration. Veneers can look bulky when bonded directly to teeth, so we compensate for this by removing some of the surface enamel. This changes the tooth permanently, to the point that it will always require a veneer or some other form of restoration.
But although this may be a minor issue for an adult, it could pose a problem for a teenager. That's because the pulp, the innermost layer of a tooth containing nerves and blood vessels, is larger in a younger adolescent tooth than in an older adult tooth. Because of its size, it's closer to the tooth's surface. During enamel reduction for veneers on a young tooth, this could lead to inadvertent nerve damage. If that happens, the tooth may need a root canal treatment to preserve it.
If the adolescent tooth needing a "facelift" has already been root canaled or sustained significant structural damage, then altering it for veneers may not be too concerning. Likewise, if the teeth are smaller than normal, the bulkiness of a veneer may actually improve appearance and not require alteration. We'll need to examine a young patient first before making any recommendations.
There are also alternatives to veneers for improving smile appearance. Enamel staining could be enhanced temporarily with teeth whitening. Small chips can be repaired with bonded dental material, or in skilled hands be used to "build" a veneer one layer at a time with no enamel reduction. Although not as durable as regular veneers, these bonding techniques could buy time until the tooth is more mature for veneers.
Whichever path we take, there are effective ways to transform a teenager's flawed tooth. And that can make for an even better smile.
If you would like more information on dental restorations for teenagers, please contact us or schedule an appointment for a consultation. You can also learn more about this topic by reading the Dear Doctor magazine article "Veneers for Teenagers."
By Ford Dental Group
September 26, 2018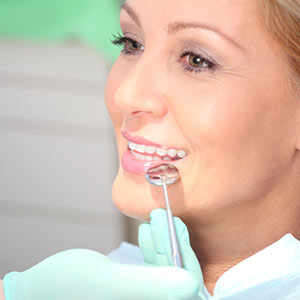 With its life-like color and texture, dental porcelain can restore a smile marred by decayed or damaged teeth. This durable ceramic material not only matches the varieties of individual tooth colors and hues, its translucence mimics the appearance of natural teeth. But perhaps its greatest benefit is its adaptability for use in a number of different applications, particularly veneers and crowns.
Veneers are thin layers of dental porcelain laminated together and permanently bonded to cover the visible outer side of a tooth to improve its appearance. Crowns, on the other hand, are "caps" of dental porcelain designed to completely cover a defective tooth.
Veneers and crowns share a number of similarities. Both can alter the color and shape of teeth, although crowns are used when more extensive tooth structure has been damaged. They're also "irreversible," meaning the tooth must be altered in such a way that it will always require a veneer or crown, though on some occasions a veneer can require no removal of tooth structure and can be reversible.
They do, however, have some differences as to the type of situation they address. Veneers are generally used where the affected teeth have a poor appearance (chipped, malformed or stained, for example) but are still structurally healthy. And although they do generally require some removal of tooth enamel to accommodate them (to minimize a "bulky" appearance), the reduction is much less than for a crown.
Crowns, on the other hand, restore teeth that have lost significant structure from disease, injury, stress-related grinding habits or the wearing effects of aging. Since they must contain enough mass to stand up to the normal biting forces a tooth must endure, a significant amount of the original tooth structure must be removed to accommodate them.
Which application we use will depend upon a thorough examination of your teeth. Once we've determined their condition and what you need, we can then recommend the best application for your situation. But regardless of whether we install a veneer or crown, using dental porcelain can help achieve an end result that's truly life-changing — a new, younger-looking smile.
If you would like more information on dental porcelain restorations, please contact us or schedule an appointment for a consultation. You can also learn more about this topic by reading the Dear Doctor magazine article "Porcelain Crowns & Veneers."