My Blog
Posts for: October, 2017
By Ford Dental Group
October 25, 2017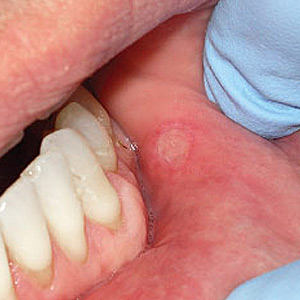 Do you ever get sores in your mouth that seem to appear for no reason and then disappear just as mysteriously? Chances are they're aphthous ulcers — better known as canker sores.
These are irritating breaks in the protective lining of the mouth (oral mucosa) — akin to a blister without its dome — that are yellowish/grayish in the center surrounded by an aggravated red border. They typically develop in movable, thinner oral membranes such as the cheeks and lips, under the tongue, or the soft palate at the back of the mouth. Because they expose underlying tissues, canker sores can be quite painful, especially when eating or drinking.
Recurrent aphthous ulcers (RAS) affect up to 25% of the population, making them one the most common oral conditions. They are considered "minor" when they are smaller and "major" when they exceed 1 centimeter in diameter. Larger ones take more time to heal and may cause scarring. A less common type is herpetiform aphthae, so named because the small clusters of ulcers that characterize it are similar in appearance to those caused by the herpes simplex virus (HSV1). However, unlike herpes-related cold sores and fever blisters, canker sores in any form are not contagious. Another difference is that ulcers from the herpes virus occur more frequently on the gums and hard palate.
No Clear Cause
There is no clear cause for canker sores. They often appear during stressful periods and times when resistance is down, suggesting an immune system malfunction. They may also be an allergic reaction to ingredients in food or oral products like toothpaste or mouthwash or related to an underlying medical conditions such as gastrointestinal diseases or nutritional deficiencies.
Canker sores usually resolve on their own within seven to ten days. Various over-the-counter and prescription treatments can help facilitate healing and help minimize pain along the way. If they do not resolve within two weeks; or they increase in severity, frequency or duration; or you're never without a mouth sore it's important to seek dental or medical attention as they could signify a more serious condition.
If you would like more information about canker sores, please contact us or schedule an appointment for a consultation. You can also learn more about the subject by reading the Dear Doctor magazine article "Mouth Sores."
By Ford Dental Group
October 10, 2017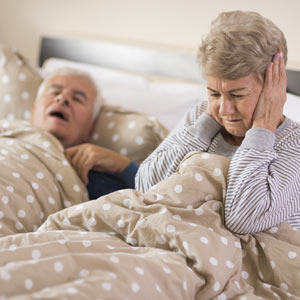 Fatigue, irritability and family complaints about snoring — all tell-tale signs you may have sleep apnea. There's more to this condition than being grouchy the next day — the long-term effect could increase your risks for life-threatening diseases.
But how do you know if you actually have sleep apnea? And if you do, what can you do about it?
Undergo an exam by a physician trained in "sleep medicine." Sleep apnea occurs when the airway becomes blocked while you sleep, dropping the body's oxygen levels; your body awakens to re-open the airway. The event may only last a few seconds, but it can occur several times a night. Even so, sleep apnea is one potential cause among others for snoring or fatigue. To know for sure if you have sleep apnea you'll need to undergo an examination by a physician trained to diagnose this condition. He or she may then refer you to a dentist to make a sleep appliance if you have mild to moderate apnea.
Determine the level of your apnea's intensity. Not all cases of sleep apnea are equal — they can range in cause and intensity from mild to advanced, the latter a reason for concern and focused intervention. Your physician may use different methods for determining the intensity of your case: review of your medical history, examining the structures within your mouth or having your sleep observed directly at a sleep lab. Getting the full picture about your sleep apnea will make it easier to develop a treatment plan.
Match the appropriate treatment to your level of sleep apnea. If you have moderate to advanced apnea, you may benefit from continuous positive airway pressure (CPAP) therapy, an electrical pump that delivers pressurized air through a mask worn while you sleep that gently forces the airway open. It's quite effective, but uncomfortable to wear for some people. Advanced cases may also require surgery to alter or remove soft tissue obstructions. If, you have mild to slightly moderate apnea, though, your dentist may have the solution: a custom-fitted mouth guard that moves the tongue, the most common airway obstruction, down and away from the back of the throat.
If you suspect you may have sleep apnea, see a trained physician for an examination. It's your first step to a good night's sleep and better overall health.
If you would like more information on sleep apnea treatments, please contact us or schedule an appointment for a consultation. You can also learn more about this topic by reading the Dear Doctor magazine article "If You Snore, You Must Read More!"